---
News

Lenticular business cards and postcards
New investments in our lenticular card printing capabilities have created industry leading cleaner, shaper images with smoother lenticular effects and transitions. If you really want to "wow" your audience with unique business cards, postcards and other marketing pieces, give our lenticular cards a try! Lenticular cards are also perfect to create more than just business cards and postcards, they are also perfect for creating products such as bookmarks, hang tags, posters, collectible cards, book covers and much more.
---
Most frequently asked question:

Q: Can I "split" my order between colleagues?
A: YES, you can "split" an order of plastic or lenticular cards between different colleagues / employees. As long as your main design remains the same and the minimum lot per person is 250 cards, Yes, we can split your order and change text / contact info.
---
Products and services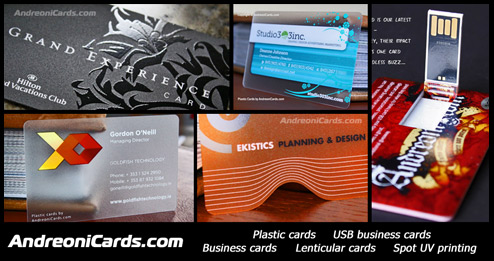 If you're looking for high quality materials and printing... this is the place. Don't hesitate to order a sample kit and compare our cards with those of any other competitor before you buy, and don't hesitate to contact us for any question or comment.
AndreoniCards offers many more specialty products. They include RFID cards and RFID bracelets, printed full color flags, car flags, pennant soccer flags (or for any sport or promotion) silicone bracelets, custom printed lanyards and roll up banner displays. For any questions about your specific needs, please contact us!
---
Portfolio of card designs
Business card design is what made us famous. Printing on clear plastic cards is what really set us apart. See some our samples online, and then, if you really want to be impressed, simply order a sample kit.
---
Dedicated to making you look good

Few companies are dedicated to making your advertising and printed material look good like we are, after all, you never get a second chance to make a good first impression.
From business cards, plastic cards, and postcards to lenticular card printing and USB business cards, we always deliver superior and innovative products.
Our high quality work means the material you'll be distributing will have such an impact that you'll be remembered, you'll be trusted and you'll be called back for business.
---
Investing in great business cards

Do you really need to invest in great business cards and other marketing cards?

With so many business cards changing hands every day, it's critical to have one that stands out and grabs attention.

Why?


Think of it this way: a recent study published in PrintWeek found that more than 80% of subjects hardly looked at the cards they were handed before stashing them in a pocket. When questioned, they indicated it was because they weren't engaged enough to really focus on what they had received. Guess what happened to those business cards when the subjects emptied their pockets... right in the trash, along with any potential business deal.


Interesting, no?


Just goes to show that "cheap and boring" when it comes to first contact with potential clients rarely gets you very far, after all, that first impression will stick.
At AndreoniCards.com we create standard business cards and plastic business cards that will not only be remembered and kept by your customers, but that will also be shown to others simply because of their originality... and that's why we call it "investing in great cards".
---
Sections not to miss!
SPONSORSHIPS

Sponsorship is a tool that enables Andreoni to expand its visibility in our key markets. It allows us to inform consumers about new products and services in a manner which is acceptable and unobtrusive. It links Andreoni's brand attributes and values with our customers' values, reinforces our brand positioning efforts (such as advertising and promotions) and provides a platform to deliver credibility for the brand.
TESTIMONIALS

One of the best methods of advertising one's business is by "word of mouth"... here are a few testimonials from clients we've served and supported.
VIDEOS and YOUTUBE

If a picture is worth a thousand words - The question is how many words is a video worth? See the beauty of our cards on video, including clear plastic business cards, SPOT UV cards, regular paper cards, USB business cards and more.
FOLLOW US ON FACEBOOK

Become a fan of our Facebook page and get the latest updates on products, services and additions made to our site. Also, as a facebook fan, you'll have access to exclusive, time and quantity limited offers. Finally, you'll be able to participate in our facebook contests and games... giving you a chance at free orders and more!
WALLPAPERS

Here are some Andreoni downloads and designs to freshen up the screens of your computers and/or other electronic devices. Available in many different screen sizes.
---